Toot Home
---
Fall Toot
Summer
Toot
Polyphony Weekend
---
Support the Toot
---
Toot History and Photos
---
Links


Texas Toot, Inc.
(formerly known as The Texas Early Music Festival)

The Texas Toot is a Texas-based non-profit devoted to early music education and performance, presenting two workshops each year. The Fall Texas Toot is a short weekend workshop with instruction in recorders, viols, early reeds, harp, lute, voice, and more. The Summer Texas Toot offers a one-week program of classes at all levels, focusing on Renaissance and Baroque music, but with offerings for Medieval and 21st century enthusiasts as well. Expert instructors in recorder, viol, early reeds, lute, harp, and voice will tend to young professionals, seasoned amateurs, and eager beginners with equal care. The Toot also sponsors or supports other events, including the Renaissance Polyphony Weekend.

Sign up to receive emails announcing Toot workshops.

The Summer Toot Online!
August 13-15, 2021

NOW AVAILABLE: Please visit the Summer Toot page on the AEM website for full information about classes and registration!

Because of the pandemic, the 2021 Summer Toot is being presented online, through the gracious support of Amherst Early Music (AEM). It will be structured very much like the Fall 2020 Toot, with a Friday meet-and-greet followed by Saturday and Sunday classes. The dates are August 13-15, 2021.

Our featured faculty this year include:
RECORDERS: Alison Melville, Annette Bauer, Frances Blaker, Nina Stern, Tish Berlin
VIOLS: John Mark Rozendaal, Mary Springfels, Patricia Neely, Ros Morley
Christa Patton (harp), Peter Maund (percussion), Oregon Renaissance Band: Phil Neuman, Gayle Neuman, Laura Kuhlman (recorders, reeds, strings)
For over forty years, we've been holding workshops and providing early music fun and learning for amateurs and aficionados alike!

The Summer Toot 2022 will be held at Schreiner University in Kerrville, Texas.




The Texas Toot
Daniel Johnson, Workshop Director
Susan Richter, Assistant Director


Feel free to write, call, or email us if you have questions or need further information.

Danny Johnson
Attn: Texas Toot
PO Box 4328
Austin TX 78765

Phone: (512) 578-8040
Email: info@toot.org



The Fall Toot Online!
Nov 20-22, 2020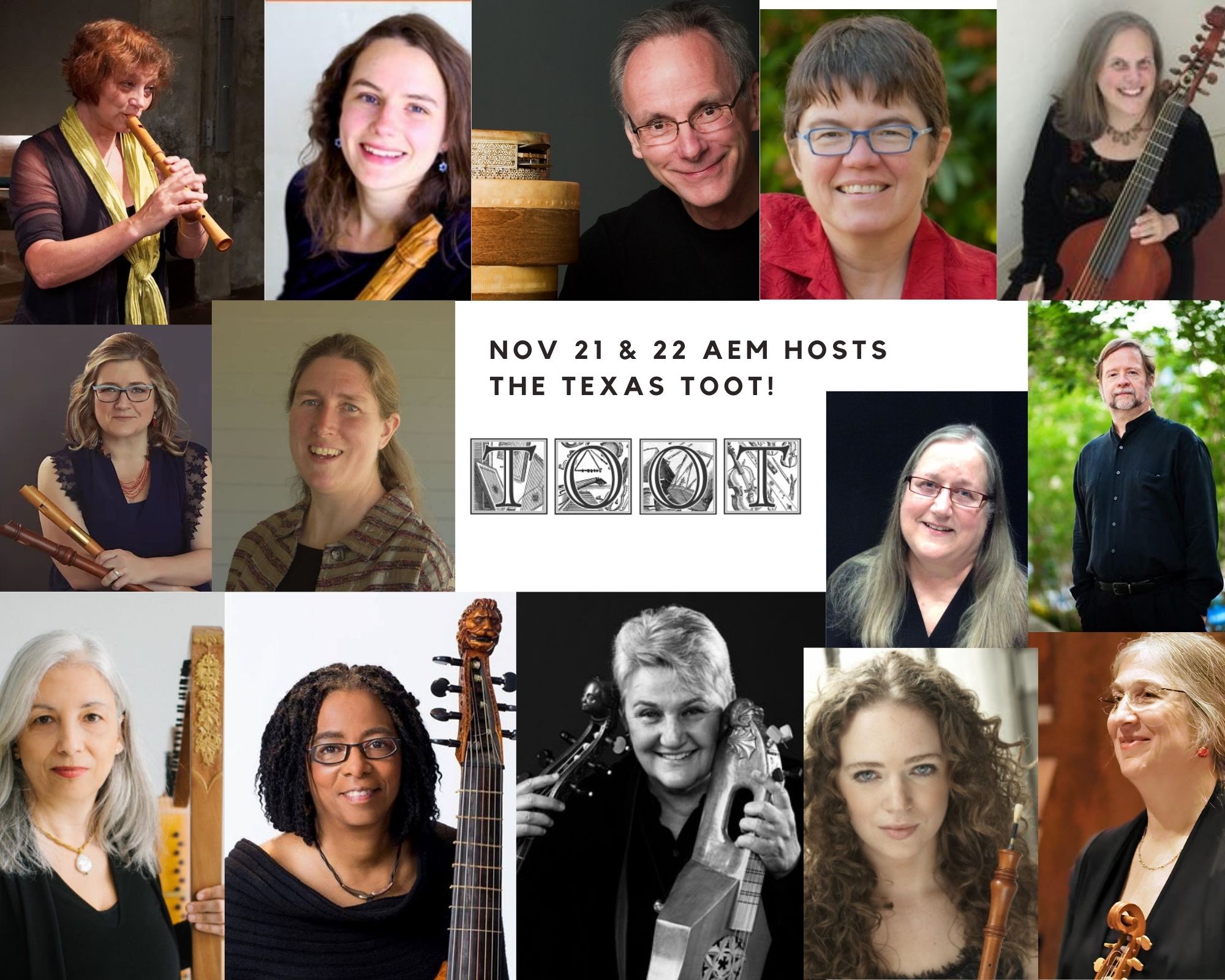 November 21 and 22, 2020
Registration Now Open!
AEM ONLINE hosts the FALL 2020 TEXAS TOOT!
November 20-22
Directed by: Danny Johnson and Susan Richter
Faculty Mary Springfels, Frances Blaker, Tish Berlin, Jennifer Carpenter, Peter Maund, Saskia Coolen, Annette Bauer, Sarah Mead, Christa Patton, Ros Morley, Patricia Ann Neely, Priscilla Herreid.

Click here to see the complete list of classes
Click here to register!

Register for any number of sessions - classes are $25 per session. After you register, you will receive an email with a link to a webpage for each class, where you can access music and any other class materials, along with the Zoom session link (which will be added 24 hours before the class). Workshop pitch is A = 440.
Class sessions are offered using the Zoom meeting app, or your web browser. Class sessions run 90 minutes, with 15 minutes for introductions and last minute tech help, and 75 minutes of class time. New to Zoom? Join us on Friday afternoon for a Zoom Tutorial session.

Click on the Fall Toot link in the left menu to see more details, including all the classes offered and the schedule. Thanks a million to Amherst Early Music for making this Online Toot possible!
We're not sure what the coming year will bring, but we hope there will be joyous celebration of playing together in person once again! If not, then at least (necessity being the mother of invention) enterprising people have made great leaps in technology, letting us come virtually together to play the music we love.
For over forty years, we've been holding workshops and providing early music fun and learning for amateurs and aficionados alike! The Fall Toot is normally held at Lakeview Methodist Conference Center near Palestine, Texas.
28th Renaissance Polyphony Weekend
February 21 - 23, 2020
New location: St. Luke's Lutheran Church, Richardson, Texas
Music to be prepared:
Motets for the Church Year
by Jacob Handl (Jacobus Gallus)

For more complete details about this year's workshop, see the brochure — or click on the Polyphony Weekend link in the left-hand menu.

Workshop leader: Dr. William P. Mahrt, of Stanford University (California).

If you have questions about the Polyphony Weekend, please e-mail us: polyphony@toot.org
---
Here are two easy ways to support the Texas Toot, any time of year!
(1) If you are an Amazon or Amazon Prime shopper: click here to sign up for Amazon Smile. Then, just start your shopping from https://smile.amazon.com/, and the Toot will benefit from almost everything you buy — at no extra cost to you!
(2) Donate to the Texas Toot quickly and easily through PayPal. You need not have a PayPal account; they will securely process a payment from your own credit card.
Press the Donate button below to go to the Paypal site; enter your payment information and the amount to give once you are on their secure site (look for a Lock symbol, or the URL starting "https" to see that it is secured).

The Texas Toot is a 501(c)(3) non-profit corporation, organized "to promote the preservation and performance of early music by amateur musicians with voice and reproductions of period instruments". Donations to the Texas Toot are tax-deductible to the extent allowed by law, and you will receive a receipt for tax purposes.