Miyo Aoki is a dedicated recorder player and teacher, performing music ranging from medieval to modern and teaching students of all ages and levels.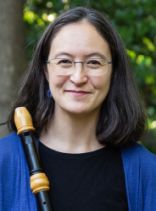 She is a member of the Farallon Recorder Quartet and has performed in the US, Germany, and Poland, with groups including The Eurasia Consort, Utopia Early Music, and Gamut Bach Ensemble; and at the Amherst Early Music Festival, Bloomington Early Music Festival and Whidbey Island Music Festival. In recent years she was delighted to play with the Boise Philharmonic, Seattle Symphony and Oregon Symphony, respectively, in performances of Harry Potter and the Prisoner of Azkaban.
In addition to private lessons, she teaches regularly for Seattle Historical Arts for Kids and at workshops around the country, including the Port Townsend Early Music Workshop, SFEMS Recorder Workshop, Amherst Early Music Festival, Early Music Week at Pinewoods, and Hidden Valley Early Music Workshop. Miyo holds a KAZ Diplom (Artist Diploma) from the Hochschule für Künste in Bremen, Germany, where she studied with Professor Han Tol, and degrees in both early music performance and mathematics from Indiana University, where she studied with Professor Eva Legêne.