Jane Leggiero, now based in Austin, holds a Bachelor of Music degree from Oberlin College and a Master of Music degree from Boston University. She has performed with ensembles across the country including the Oberlin Baroque Orchestra under Jeannette Sorrell, the Boston University Baroque Orchestra under Martin Pearlman, Seraphic Fire, La Follia Austin Baroque,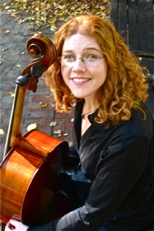 Texas Early Music Project, the Buxtehude Consort, and L'Academie. She has also appeared as a soloist with the Boston University Baroque Orchestra, Cambridge Concentus, and the orchestra of the St. Cecilia Concert Series in Austin.
An avid chamber musician, she has been an active member of many ensembles, including Les Pommes et Les Roses and Rossignol. She has performed with Long and Away: A Consort of Viols, the Boston University Consort of Viols, and is co-artistic director and founding member of Consort Conspiracy.