As an active early music performer, Héctor Alfonso Torres González regularly plays baroque guitar, theorbo, lute, and other period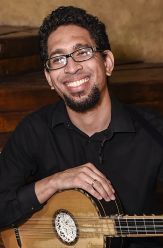 plucked instruments with chamber groups across the U.S., including the Texas Early Music Project, Austin Baroque Orchestra, Lumedia Musicworks, Orchestra of New Spain, La Follia Austin Baroque, Ensemble Fantasmi, and others.
Recently, he finished his Doctorate in Musical Arts in classical guitar performance with a related field in Early Music at the University of North Texas. While at UNT, he served as Teaching Fellow of classical guitar and Teaching Assistant for the UNT Baroque Orchestra, and was a frequent soloist playing works like Antonio Vivaldi's Lute Concerto in D major RV 93. He was selected as one of Early Music America's 2021 Emerging Artists.