Cayla earned a Master of Music in music education from the University of Texas at Austin, but in the years since has seen the light, has taken up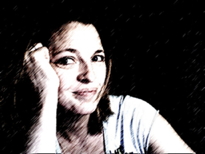 performing, and has been blessed to study voice with Danny Johnson.
She enjoys attending and working at both the Amherst Early Music Festival and the Texas Toot, where she has studied with the likes of Anne Azema, Shira Kammen, Drew Minter, Ann Monoyois, Adam Gilbert, and Bob Wiemken. She has sung with the Schola Cantorum of St. Mary Cathedral and the chancel choir of Highland Park Baptist Church, but is most at home in a Texas Early Music Project concert! Cayla lives in Taylor with her tall husband Steven, and teaches class piano at Cedar Ridge High School in Round Rock.