Annette Bauer, a native of Germany, studied medieval and renaissance music at the Schola Cantorum Basiliensis in Basel, Switzerland, specializing on recorder techniques with Conrad Steinmann (2001). She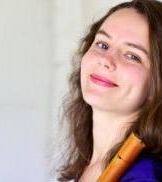 holds an MA in music from UC Santa Cruz (2004), and has been a student at the Ali Akbar College of Music in California since 1998, where she studies North Indian classical music on sarode, a stringed instrument.
As a recorder player, Annette regularly performs with medieval ensemble Cançonièr, Baroque group Les grâces, Farallon recorder ensemble, and has appeared at the Santa Cruz Baroque and the Carmel Bach Festivals, as well as on the San Francisco Early Music Society Concert Series. She has performed with the California Bach Society, Catacoustic Consort, Chamber Music San Francisco, Istanpitta, Magnificat, and Texas Early Music Project. Annette has served on the recorder faculty for several of the San Francisco Early Music Society summer workshops and the Amherst Early Music Festival, among others. Certified in Orff Schulwerk, she teaches recorder pedagogy to music teachers at the San Francisco Orff Certification Course.
Annette also plays Brazilian percussion with Maracatu Luta, and is the co-founder of Magic Carpet, a duo dedicated to the art of improvisation. See Annette's website, www.annettebauer.com, for more information!