Al Cofrin earned a BA in Jazz Theory & Composition at the University of Texas in the early 1980s.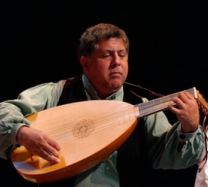 He became interested in medieval music when a professor pointed out that both jazz and medieval monophonic music utilize similar improvisational skills. He continued graduate music studies and worked on a thesis project of medieval monophonic songs and dances resulting in the 1995 publication of pre-15th century transcriptions and a collection of Renaissance dance music.
The publication of his work led to the desire to perform the music he had worked with for so long. Istanpitta was born in 1994 and continues to play for concert venues and universities across the country. Al has been on faculty for several Early Music related workshops including San Francisco Early Music Workshop.