Austin-based harpist Shana Norton is a founding member of Chaski (http://www.chaskimusic.com/), a flute and harp duo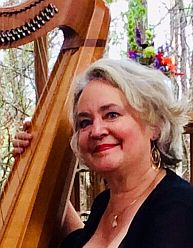 whose repertoire includes: Latin American and Celtic music, Playford tunes, and an eclectic mix of chamber music. Formed in 1985, Chaski tours widely and performs regularly in Austin, and throughout Texas.
Shana studied Scottish harp with Isobel Mieras, Wendy Stewart, and Karen Marshalsay, and plays a clarsach (Celtic harp) made by Starfish Designs in North Ballachulish, Scotland. She also uses her clarsach to play honky-tonk, middle eastern, and cutting-edge contemporary music.