Jennifer Carpenter holds a Bachelor of Music degree in clarinet performance from the University of North Carolina at Greensboro and a Master's degree in musicology with an emphasis in historical performance practices from the University of North Texas. While attending UNCG, she began playing early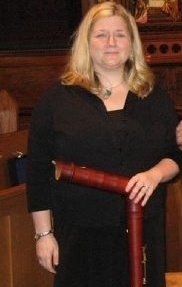 wind instruments in the Collegium Musicum. Her pursuit of performance practice studies brought her to UNT, where she studied with Lyle Nordstrom and Sara Funkhouser.
As a recorder player, Jennifer performs with the UNT Baroque Orchestra, the Plano Baroque Chamber Ensemble, and has been a guest artist with the Texas Camerata and Denton Bach Society. Currently, Jennifer serves as the director of the UNT recorder ensembles, and is music director of the Dallas chapter of the American Recorder Society. She has taught clarinet and recorders in Greensboro NC, Gaithersburg MD, and Argyle TX.
Jennifer was awarded a Toulouse Graduate Fellowship to complete her Ph.D. studies in musicology and historical performance practices at UNT.