John Mark Rozendaal specializes in teaching and performing stringed instrument music from the Baroque and Renaissance eras. As founding Artistic Director of Chicago Baroque Ensemble, JMR performed and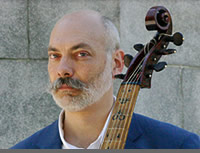 led seven seasons of subscription concerts, educational programs, radio broadcasts, and recordings for the Cedille and Centaur labels.
Rozendaal served as principal 'cellist of The City Musick, and Basically Bach, and has performed both solo and continuo roles with many period instrument ensembles, including the Newberry Consort, Orpheus Band, and the King's Noyse. Boston Early Music Festival Orchestra, the Catacoustic Consort, Philomel, Parthenia, The New York Consort of Viols, and Empire Viols.
JMR performs as a member of Trio Settecento with violinist Rachel Barton Pine and harpsichordist David Schrader and is Artist -in-Residence at The Harvey School, a coeducational college preparatory school locatied in Katonah, New York.
Dr. Rozendaal's viola da gamba playing has been praised as "splendid" (Chicago Tribune), and "breathtaking" (Sun-Times). Recordings are available on the Cedille and Centaur labels. Rozendaal is in demand as a workshop teacher and often joins the faculties of the Viola da Gamba Society of America Conclave, Viols West's annual workshop, Amherst Early Music, Madison Early Music Festival, and the Music Institute of Chicago's annual Baroque Festival.
During the school year JMR teaches private lessons and viola da gamba Dojo classes in Manhattan, and at the Harvey School in Katonah.