Amy Brumley has sung regularly with Texas Early Music Project since 2000. Her debut performance with the group, singing Almirena in Handel's Rinaldo, earned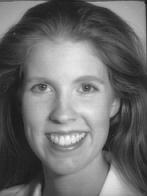 her a nomination for best classical singer by the Austin Critics Table.
Dr. Brumley is a member of the staff at the Amherst Early Music Festival, and has studied there with Julianne Baird, Andrew Lawrence-King, Howard Crook, Jennifer Lane, Emily von Evera and Ellen Hargis.
While completing her doctorate degree in voice, she collaborated in several concerts and lectures with her husband, Jonathan, who specializes in continuo playing on lute and harpsichord. These performances have included Tears and Flames: 17th Century Love Songs from Italy, England, France, and Spain; Singing Amarilli mia Bella; and Lost Is My Liberty: French airs de cour and English lute songs.
Most recently Dr. Brumley sang 17th century Swedish music with "The Killer Bees" at the Boston Early Music Festival, earning rave reviews in the New York Times and Early Music America. She was also selected to participate in a masterclass with Stephen Stubbs, Paul O'Dette and Ellen Hargis.